Bukowski in the Bathtub is a portrait of Charles Bukowski by Beat poet John Thomas. He was an intimate friend of Charles Bukowski between the years of 1965 through 1971. This book is based on the Thomas / Bukowski visits and conversations during that period. Of John Thomas, Charles Bukowski has said, "…he made a place when / there was no place / a place to go when all / was closing in… he lent the easy / saving / natural / grace…" (Excerpt from "strong man", a poem about John Thomas printed in Black Ace / Temple of Man). Contains transcriptions of the John Thomas, Charles Bukowski conversations.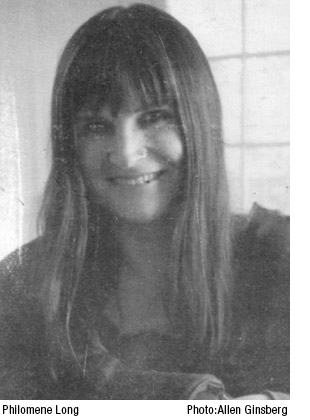 Philomene Long was an internationally published Beat poet and film director. Her films include "The Beats: An Existential Comedy" with Allen Ginsberg and "The California Missions" with Martin Sheen. About Bukowski in the Bathtub she says, "This book is a mind movie: conversations about conversations; remembrances of things past; weaving past and present. Its images are high-contrast black and white, as in film noir (Charles Bukowski's favorite genre.) Bukowski in the Bathtub is cinema verite on the page."
A Note from Charlotte Gusay on the publishing history and fate of this book: Long out of print, Bukowski in the Bathtub was published by Philomene Long and her long-time companion John Thomas in 1999 by their publishing concern Raven Press. Prior to that time, a version of the book was signed on for publication by Little, Brown and Company. However its publication was blocked by Black Sparrow Press which published the major part of Bukowski's work and advised Bukowski's widow Linda Bukowski on the complete collection of his work. Little, Brown did not pursue the publication. Legally, John Thomas is the owner of these conversations (half of which were his own voice of course.) The conversations were transcribed from his taping sessions with The Buk in the 1960s, early 1970s, when they lived together on Fountain Avenue in old Hollywood. Philomene and John found the long-forgotten tapes in a box in back of a musty closet sometime in the early 1990s, brought them to TCGLA and it was legally ascertained that when material on tape is transferred or changed to an alternative medium, the material then is owned by the transcriber. Hence, Philomene and John decided to create this book and publish it. They were good friends with both Charles and Linda Bukowski. After Bukowski's death, they often had dinner together and Linda had read the material transcribed from the tapes and knew that Philomene and John were going to publish this book of conversations between John Thomas and Charles Bukowski. Linda had given them permission and thought it was a great collection and clearly had sanctioned the project. But it was not to be. Philomene and John published the book themselves in 1999. In 2002 Black Sparrow Press' complete collection of Bukowski titles (along with Paul Bowles and John Fante titles) was sold to Ecco Press and the publisher retired. Sadly, Philomene and John have since passed away. But their poetry and writings can be found in their books and literary journals, and commemorated on the "Beat" wall in Venice, California. Check it out: http://www.virtualvenice.info/poets/john&philomene.htm
At the end of Windward Ave, at the corner of Speedway, inside Danny's Delicatessan on the back wall there is a mural of some noted people who have passed through Venice (mostly movie stars) by artist Rip Cronk. Central to the painting is the image of John Thomas with his words:
Don't get hung up on anything, stand above, pass on and be free.
Pass on freely further down Windward Ave. crossing the boardwalk and in front of the LAPD Police Station and the Pacific Ocean, carved in stone on the Poets' Wall is Philomene Long's poem welcoming you to Venice.
VENICE HOLY GROUND STAINED WITH THE BLOOD OF POETS CITY WHICH LIES BENEATH THE BREASTS OF BIRDS GUARDED BY CATS\BEHIND EVERY CORNER THE MUSE, ANGEL OF SURPRISE POEMS OUT OF PAVEMENT CRACKS