Outrageous Fortune tells the story of Anthony Russell, an aristocratic boy (Lord Ampthill, former Chairman of Committees, House of Lords, father; Duke of Bedford, cousin; Lord John Russell, 19th century Prime Minister, cousin; Bertrand Russell, philosopher, cousin) who grew up in the prettiest castle in the world but struggled mightily to find his way in the bizarre surroundings and lifestyle he found himself in due to profound insecurity and shyness. Written in lively, utterly charming prose and laced throughout with his personal brand of sardonic wit, Anthony takes us inside an extraordinary world and offers, in a series of vignettes and personal philosophies, a sometimes hilarious, often moving and ultimately tragic look at a childhood both heartwarming and sad.
Set in stark contrast to such memoirs as Angela's Ashes and The Glass Castle, Anthony enjoyed luxury and comfort on an epic scale, but despite the tender embrace of his nanny and the love of his mother (from a distance) he was forced to fall back on his own limited resources to combat the strictly enforced dictum of children should be seen and not heard, peculiar rituals and eccentric behavior being the norm, and character flaws such as timidity were neither understood nor tolerated. Anthony's grandmother, Lady Baillie, a Paget (another of England's most upper-class and distinguished families) through her father and a Whitney (formerly one of America's richest families) through her mother, bought and restored Leeds Castle in Kent, south east England, and Anthony grew up between his parents large and well staffed London house and the castle where beauty and grandeur were off the chart but children were essentially a nuisance. Life at the castle and in London, and in Lady Baillie's south of France and Nassau properties, for Anthony's family, and for all those friends of his grandmother, normally referred to as 'the court', revolved entirely around her needs and her requirements. It was the feudal system come to life after a rest period of eight hundred years, and our narrator calls it "The Castle Way." It was a way of life – now virtually extinct - full of unwritten rules and regulations, populated by wily Cabinet Ministers, hard-nosed business leaders, international beau monde operators and, naturally, a plethora of aristos' large and small, and the whole shebang was carried out at a level of splendor seldom matched at the time.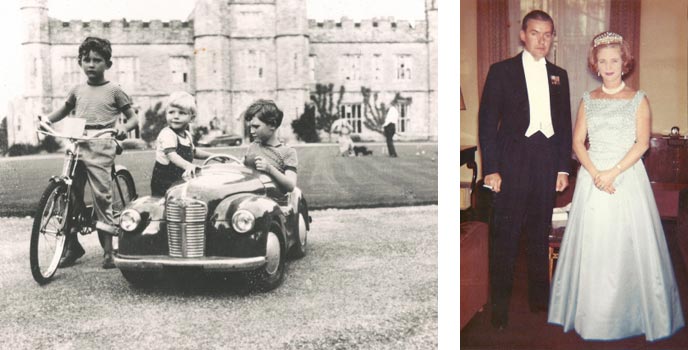 Anthony Russell in this memoir Outrageous Fortune tells a unique tale, from a unique perspective, in a unique voice about his young life lived at Leeds Castle - a fairy tale castle --with important and famous people in high places, with nannies and butlers and chauffeurs and Bentleys and Jaguars and more money than God. (Except actually in his pocket.)
Anthony Russell's story is a singular experience both for the writer (to have lived his childhood in such circumstances in a royal palace like Leeds Castle) and for the reader to discover vignettes of a lifestyle totally closed to the population at large. Hence the book also reveals an historical look into a world that no longer exists. Anthony Russell came of age in the sixties exactly at the same time The Beatles, the Rolling Stones and others of that period came onto the scene. The Beatles especially ushered in a new social era which changed the face of our social mores forever. Anthony Russell's story is a personal reflection of going from one era to that era. Here's a note from Anthony Russell speaking to that point:
We were all rather polite (in the West) in the 1950s and none more so than I (granted I had no choice). We combed our hair neatly and showed respect for our elders and betters in whom we placed bountiful trust to do the right thing at all times on our behalf. But when Elvis became 'All Shook Up' and invited us to love him tenderly the world took note. And a change was assuredly gonna' come.

The political, cultural and social upheaval in the 1960s was total and music led the revolution by the scruff of its working class neck. I was caught between two camps - the wealth and aristocratic privilege I'd been born to and the idealistic music mania I found myself exquisitely possessed by. I could not have cared less about the Socialist politicians, the so-cool movie actors, photographers and footballers. It was the music that moved me. The Beatles with their groovy-cool suits, long hair, 'fab' humor and unbelievable tunes were giving the world a 'Ticket to Ride' the likes of which had never been seen or heard before (and probably never will again). The Rolling Stones were rudely instructing us all to get off their cloud before unleashing a torrent of abuse upon long cherished mores and manners with their dress, drugs and pulverizing R&B which rapidly placed them right up next to the Beatles in the stratosphere of rock-n-roll titans who changed the universe.

Nothing was the same again. Certainly not I.
A Little About Anthony Russell Author of Outrageous Fortune. Anthony Russell was educated at Stowe School, England, where he studied English, History and French. He was raised at Leeds Castle, Kent, where, in the corridors, he frequently encountered the ghosts of Henry VIII and his string of mistresses. His entire childhood was centered around the feudal world of Lady Baillie, his very rich and aristocratic grandmother. He is a writer, musician and composer and currently lives in Los Angeles, California.