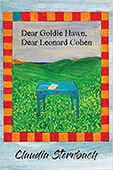 Dear Goldie Hawn, Dear Leonard Cohen,
By Claudia Sternbach
(Published by Unruly Voices [an Imprint of Paper Angel Press], December 2021)
After suffering a devastating loss, Claudia writes letters to family and friends, the famous and the infamous, as a means to explore the events in her own life and find meaning in human connections.
In this third memoir by Claudia Sternbach, she once again knits together fragments — this time using letters written to the likes of Goldie Hawn, Leonard Cohen, Vermeer, the Real Housewives of Beverly Hills and more — to shape a story of a woman attempting to make sense of the life she is living and those who have been a part of it — knowingly or not.
Her letters show us that we are all connected even by the thinnest of threads, that exploring those connections helps give shape and understanding to our past, and shines a light on what the future may hold.
In a time where emails are thought of as too time- consuming, and text messages seem to be our main way of communicating, Sternbach reminds us that the art of letter writing should not be tossed aside so quickly.
About the Author: Claudia Sternbach is the author of two previous memoirs, Now Breathe, a very personal journey through breast cancer (Whiteaker Press) and Reading Lips, a memoir of kisses (Unbridled Books).
Claudia was a newspaper columnist for many years and has been published often in The San Francisco Chronicle, The San Francisco Examiner, and The Chicago Tribune. She has also been published in several anthologies and is the former editor-in-chief of the literary journal, Memoir.
When she isn't writing, Claudia paints. When she isn't writing or painting, she can be found on her daily walk on the beach. And at the end of the day she enjoys a cocktail on her back yard swing while watching the squirrels trapeze branch to branch in the redwoods. Claudia lives on the coast of Northern California with her husband, Michael.
PRAISE for Dear Goldie Hawn, Dear Leonard Cohen:
"In this memoir, a woman mourns her sister through unsent letters to loved ones and celebrities…. Sternbach set about writing letters of gratitude to the people—intimates and strangers, living and dead—who had helped buoy her over the years, starting with Vermeer. A copy of the artist's famous painting "Girl With a Pearl Earring" hung in her therapist's office. The author wrote to Goldie Hawn to thank her for the movie Butterflies Are Free, which played on the first airline trip of Sternbach's career as a flight attendant. The author wrote to Leonard Cohen, whose music she listened to on the drive to visit her mother in a nursing home. She wrote to controversial figures like O.J. Simpson, fictional characters like Carrie Bradshaw, and, of course, to [her sister] Carol, attempting to make sense of her loss and what it meant for Sternbach moving forward….The author's prose veers from rueful and vulnerable to bouncy and wry…with fan letters sitting uneasily beside the mournful missives to Carol. Perhaps because of this, the sneaky way the work builds toward its moment of catharsis is all the more potent. A powerful, idiosyncratic account that uses letters as a microscope for grief." Kirkus Reviews