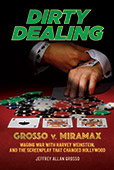 Dirty Dealing: Grosso v. Miramax—Waging War with Harvey Weinstein, and the Screenplay that Changed Hollywood
By Jeffrey Allan Grosso
(Published by Permuted Press/Simon & Schuster, Forthcoming June 2022)
A rollicking recounting of the landmark case a writer brought against Miramax, whom he accused of stealing his screenplay and turning it into the cult classic Rounders.

When a young screenwriter goes online to check out the promotional website for a new poker movie called Rounders, he's shocked to discover how similar it is to a screenplay he wrote a few years earlier and submitted to a number of studios. When he later sees the Miramax-produced film in theaters, he is astonished by the number of overlapping elements—the protagonist playing Texas Hold 'em to pay his way through college while deceiving the girlfriend who believes he's quit, the loss of everything he has in a single hand of high-stakes Hold 'em, a character named "Worm," and many other commonalities that form the foundation of what will become his lawsuit against Miramax. He leaves the theater that day feeling that not only has the studio stolen his script, but his life, which had encompassed years of professional poker playing that informed the screenplay he hoped would open the door to a writing career in Hollywood.

Against all odds, he proceeds to take on Miramax and the Hollywood system with the help of an ingenious lawyer. Jeffrey Grosso simply has to prove how it could have happened and convince a judicial system that often favors studios over writers that he's a victim of intellectual property theft, which results in a ten-year landmark legal battle against Hollywood's most notorious studio.

Part comic legal thriller, part nail-biting poker memoir, Dirty Dealing: Grosso v. Miramax—Waging War Against Harvey Weinstein, and the Screenplay that Changed Hollywood is the entertaining look at one man's fight to get the credit he believes he deserves.

Does he have a case or are the similarities just an illusion the mind plays on a creator? Perhaps there are only five stories in Hollywood, as his lawyer points out, and no idea is truly original. You be the judge.
About the Author: Jeffrey Allan Grosso is the author of several scintillating books, screenplays, short stories, feature articles, songs, and poems. He has worked as a copywriter, editor, poker columnist (under the byline Chip Stax), and professional poker player. His column, Chip Stax's Advanced Quantum Theories of Texas Hold 'em, ran in Poker Digest Magazine for three years and is considered to be the first humor column to focus specifically on Texas Hold 'em.