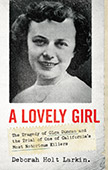 A Lovely Girl: The Tragedy of Olga Duncan and the Trial of
One of California's Most Notorious Killers A True Crime Memoir
(forthcoming from Pegasus Books/Simon & Schuster)
By Deborah Holt Larkin
1950s. The California Riviera. A crime so utterly bizarre, if it were not so tragic, it would be a comedy. Call it a Greek Tragedy: Young nurse meets Oedipus and Medea in Santa Barbara.
A Lovely Girl is the sometimes hilarious, sometimes heartbreaking, and entirely gripping story of a notorious 1958 murder case. Told with bursts of dark humor, this book combines a true crime page turner with alternating chapters of a poignant, coming-of-age memoir told in the authentically narrated ten-year old voice of author Deborah Holt Larkin. We soon find out that young Debby and her happy but slightly eccentric family are intimately embroiled in the unfolding murder investigation.
Bob Holt is Debby's witty, foul-mouthed, crime reporter father – a well-known and esteemed journalist. He covers Olga Duncan's murder for the local newspaper from the young nurse's disappearance through the trial of her killers. Daddy has no filter. His fascinating nightly accounts around the dining-room table bring the outlandish characters to life. Ten-year-old Debby hangs on every detail of her father's spellbinding tales, feeding her nagging worry that someday she could be murdered like Olga. She obsesses about the unbelievable crime and her desire for divine intervention and protection, all the while carving a path of her own. A Lovely Girl easily stands alongside films with child narrators such as The Lovely Bones, To Kill a Mockingbird and many others.
Just a Few of the Outlandish Plot Points:
In the fall of 1958, a young nurse, the pregnant wife of a local attorney, disappears from her Santa Barbara apartment in the middle of the night to meet a violent death on a lonely road.
A month later, her brutally beaten body is discovered in a shallow grave not far from the author's home. The victim is Olga Duncan, a lovely, quiet girl from Canada without an enemy in the world.
Elizabeth Duncan, a well-dressed, matronly woman, spends most of her time doting on her thirty-year-old son, Frank, a successful criminal defense attorney whom she calls "Mama's little boy."
She vehemently opposes Frank's marriage to Olga and secretly attempts to get it annulled.
She may not only be the worst but the wackiest mother-in-law in the world, as she shops around Santa Barbara for a killer.
Hang on! There's lots more. Just when you think the story can't get any weirder, the trial begins. Mrs. Duncan calls the prosecution witnesses and the DA liars, denying her guilt and hurling defiance at her accusers. Olga's lawyer husband, the father of their unborn child, assists Ward Sullivan, one of Los Angeles' most respected criminal attorneys, in his mother's defense. More and more evidence comes to light clearly pointing to Mrs. Duncan's guilt. Frank is his mother's only defense witness against the charge that she hired two thugs to murder his own wife. District Attorney Roy Gustafson hints at incest throughout the trial. Read the manuscript and get the goods.
A Lovely Girl: A True Crime Memoir is Deborah Holt Larkin's debut book that showcases her seasoned writing chops nurtured through UC Davis's American Literature program and a post graduate creative writing program at UC San Diego. Larkin has built a large following over her many years in education, various appearances on television, and interviews in print and on the radio. Of particular note: The author relied on over 5000 pages of trial transcripts, hundreds of newspaper stories and her father's files to create A Lovely Girl: A True Crime Memoir, a spell-binding culmination of extensive research and exquisite prose.
About Deborah Holt Larkin
Deborah Holt Larkin is uniquely qualified to write this entertaining, yet horrifying true crime story. From a front row seat in her own living room, she lived the fear and disbelief that gripped her hometown in 1958. The sound of her father's voice—his dramatic, profanity-laced, sometimes humorous stream-of-consciousness commentary about what he called 'the remarkable Duncan case'—filled her with both curiosity and terror.
In writing the exhaustively researched book, the author relied on numerous sources to recreate the investigation and trial scenes: over 5,000 pages of court transcripts; news stories from four newspapers; her father's files and personal recollections on the murder case; his weekly columns about their oddball family life; interviews with the daughter of the detective who broke the case; a letter Olga Duncan wrote home to her parents; and an exclusive review of the unpublished memoir about the investigation and trial written by the young district attorney, Roy Gustafson, who successfully prosecuted the murderers.
Deborah Holt Larkin holds a bachelor's degree in American History and Literature from the University of California at Davis, and she studied creative writing at the University of California at San Diego. She has a master's degree in the Education of Exceptional Children from San Francisco State University. During her thirty-two-year career in education, she taught students with special needs, including children with mental illnesses, before becoming an elementary school principal. She has extensive experience speaking in front of groups, and she has been interviewed for newspapers and on TV and radio.