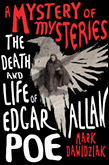 A Mystery of Mysteries: The Death and Life of Edgar Allan Poe
By Mark Dawidziak
(St. Martin's Press, Forthcoming 2023)
It is a moment shrouded in horror. Edgar Allan Poe died on October 7, 1849, at just forty, in a lingering, painful, haunting manner that would not have been out of place in one of his own incredibly influential terror tales.
It is a moment surrounded by mystery. It is, in fact, a double-barreled mystery. What was the cause of Poe's death, and what happened to him during the missing days before he was found, delirious and "in great distress," on the streets of Baltimore, wearing ill-fitting clothes that were not his own? Why did he look so disheveled, his hair unkempt, his face unwashed, and his eyes "lusterless and vacant"? Sounds like the description of a character in one of his stories?
Mystery and horror. Poe, who remains one of the most iconic of American writers, died under haunting circumstances that reflect the two literary genres he took to new heights. There is a staggering amount of speculation about those missing days. There are even more theories about the cause of death: rabies, murder, a brain tumor, influenza, carbon monoxide poisoning from illuminating coal gas, binge drinking, diabetes, drug overdose, cholera, mercury poisoning from medicine prescribed during the July 1849 cholera epidemic, dementia caused by normal pressure hydrocephalus, suicide, syphilis, hypoglycemia, epilepsy, apoplexy, enzyme deficiency, meningeal inflammation due to a viral or bacterial infection, and heart disease, to name many but hardly all. With no major biography of Poe having appeared in more than ten years, and no in-depth examination of his death since John Evangelist Walsh's Midnight Dreary in 1998, A Mystery of Mysteries: The Death and Life of Edgar Allan Poe looks at Poe's "horror haunted" life through the prism of his death and the many possible causes.
About the Author: Mark Dawidziak has been a television, film, and theater critic for more than forty years. He has been the television critic at Cleveland's The Plain Dealer since 1999. He is the author or editor of about twenty-five books, including five about Mark Twain. He has written two histories of landmark TV series, "The Columbo Phile: A Casebook" and "The Night Stalker Companion: A 25th Anniversary Tribute." "Everything I Need to Know I Learned in The Twilight Zone," his lighthearted tribute to Rod Serling's classic anthology series, was published in 2017. His most recent book, "The Shawshank Redemption Revealed: How One Story Keeps Hope Alive," was published in 2019. Other books include the horror novel "Grave Secrets," "The Bedside, Bathtub and Armchair Companion to Dracula," and the literary biography he co-authored with Paul J. Bauer, "Jim Tully: American Writer, Irish Rover, Hollywood Brawler."
PRAISE for A Mystery of Mysteries
"A poignant and realistic picture of Poe through the fascinating black prism of his mysterious death".
--J.W. Ocker, Edgar Award-Winning Author of Poe-Land
"Mark Dawidziak plumbs the mysteries of Poe's life and career with extraordinary skill and knowledge. Much like Montresor leading Fortunato through the winding catacombs, he leaves the reader surprised and thoroughly ensnared."
--Daniel Stashower, Author and Winner of the 1999 Edgar Award for Best Biographical Work